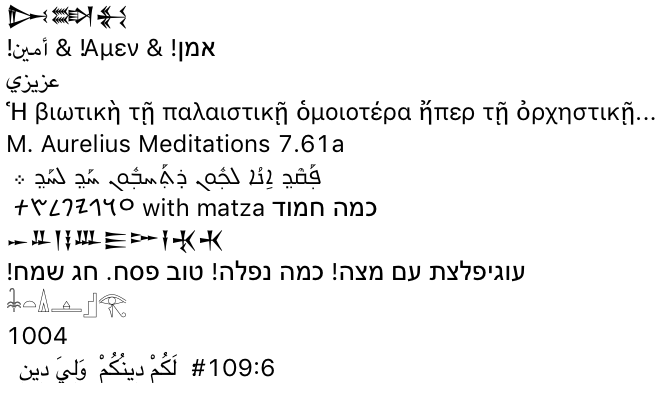 𒄖 𒇷 𒈬
אמן! & Αμεν! & أمين!
عزيزي
Ἡ βιωτικὴ τῇ παλαιστικῇ ὁμοιοτέρα ἤπερ τῇ ὀρχηστικῇ...
M. Aurelius Meditations 7.61a
ܦ݂ܰܩܶܕ݂ ܐ݈ܢܳܐ ܠܟ݂ܽܘܢ ܕ݁ܬ݂ܰܚܒ݂ܽܘܢ ܚܰܕ݂ ܠܚܰܕ݂ ܀
עוגיפלצת עם מצה! כמה נפלה! טוב פסח. חג שמח!
𐤏𐤅𐤂𐤉𐤐𐤋𐤑𐤕
𐎀𐎁𐎂𐎃𐎄𐎅𐎆𐎇𐎈𐎉
#109:6 : لَكُمْ  دِينُكُمْ وَلِيَ دِينِ
𓇓𓏏𓏙𓊵𓊨𓂀
𒄖 𒇷 𒈬
Sumerian GU.LI.GU "My friend" (Note:The first and last characters have different initial "G" sounds. The first being Gu5.)
אמן! & Αμεν! & أمين!
Amen in Hebrew, Greek, and Arabic.
عزيزي
Arabic for "My friend"
Ἡ βιωτικὴ τῇ παλαιστικῇ ὁμοιοτέρα ἤπερ τῇ ὀρχηστικῇ...
"The art of life is more like wrestling than dancing..."
M. Aurelius Meditations (Greek) 7.61a
ܦ݂ܰܩܶܕ݂ ܐ݈ܢܳܐ ܠܟ݂ܽܘܢ ܕ݁ܬ݂ܰܚܒ݂ܽܘܢ ܚܰܕ݂ ܠܚܰܕ݂ ܀
"I command that you love one another."
Jesus to followers in Syriac NT in John 15:17
עוגיפלצת עם מצה! כמה נפלה! טוב פסח. חג שמח!
Modern Hebrew "Cookie Monster with Matzah! How Wonderful! Good Pesach. Happy holiday.
𐤏𐤅𐤂𐤉𐤐𐤋𐤑𐤕
"Cookie Monster" in Phoenician/Paleo-Hebrew characters.
𐎀𐎁𐎂𐎃𐎄𐎅𐎆𐎇𐎈𐎉
First ten Ugaritic characters.
#109:6 : لَكُمْ  دِينُكُمْ وَلِيَ دِينِ
Quranic quote from Mohammad to an unbeliever on parting peacefully after a Sura long dialogue: "You have your way and I have mine."
𓇓𓏏𓏙𓊵𓊨𓂀
Hieroglyphic offering formula: "The king gives an offering to Horus...."
This text was an exercise in Unicode, UTF-8, and HTML. The quotes are taken from my collection --everywhere from ancient coffins, tablets, and holy and secular texts to modern greeting cards.
Your device browser may or may not display all the texts correctly no matter what fonts you have installed on your system. If you have an Apple device (OSX) such as a Macintosh computer, iPad, or iPhone that is only a few years old or new and you use the Safari browser, you won't have to do anything. All text, ancient and modern will display perfectly without you changing anything on your system. If you user the Firefox browser, Windows, Linux or other OS, you may see squares or diamonds in place of characters in the older Sumerian, Egyptian, Ugaritic, and Phoenician texts. The Syriac may also be messed up. Some browsers will spread out the Arabic or other texts incorrectly.
When displayed correctly, such as on a newer Apple device, the text looks like this: